Personal Collection

The Beast from 20,000 Fathoms
By Alternative Images, sculpted by Joe Laudati. Done in HO scale.

The Bride Of Frankenstein Aroura Tribute Kit
Sculpted by Jeff Yagher, and produced by Monsters in Motion. Article for Amazing Figure Modeler #38.


The Chase
Two kits, the Styracosaur, and Daspletosaur and son, produced by Cretaceous Creations and sculpted by Shane Folkes. Custom diorama.



Urban Renewal
1/350 scale Cloverfield kit (FTC) with Eyepop Designs 3d printed buildings. The vehicles are Trumpeter 1/350 military and tanks.
The cars and such are Shapeways 3d printed. The fires are 9 VDC LED with scratchbuilt defusers and cotton. Clover was sculpted by Julia Ambrose Murphy.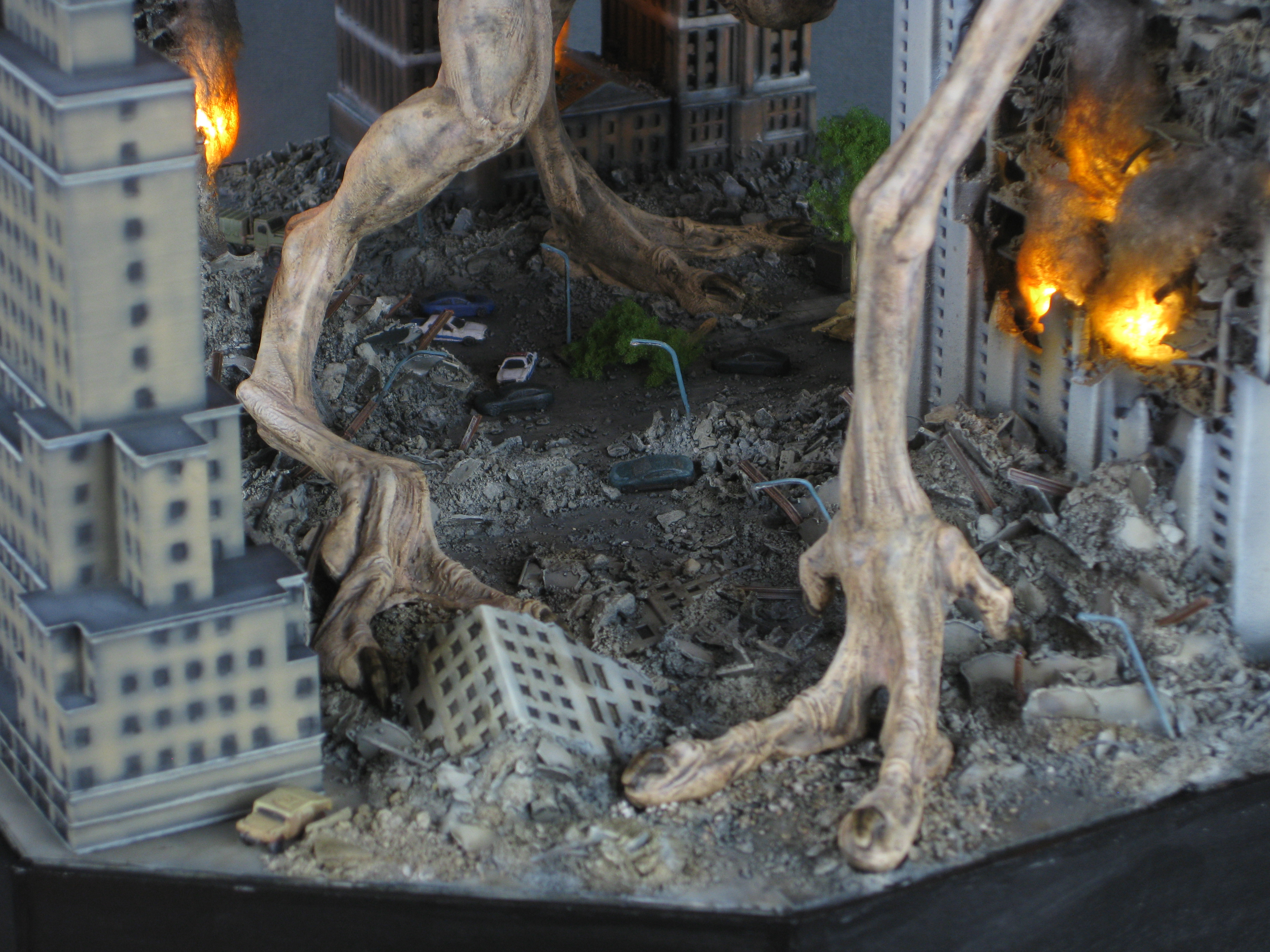 The Creature
produced by Needful Things


The Creature vs Predator
Produced by X-O Facto (Splish Splash) sculpted by Joe Laudati. Custom water base. Article for Amazing Figure Modeler #28.


Destroy All Martians
T's Facto First Appearance 2014 Godzilla 1/350 scale,Pegasus War of the Worlds Tripods and Nickdo3d 1/350 scale printed buildings
Appeared in Fine Scale Modeler Magazine Feb 2021



Death Metal Diet
It is an X-plus vinyl modified to lengthen the legs. The base is from a Kaiyodo statue also modified.
The scale is 1/225 and Godzilla is sculpted by Yuji Sakai.



Fangs
1/20 scale Torvosaurus by Creataceous Creations
Base: Celluclay with Woodland Scenics Realistic Water and Natural and craft store plastic plants.

Farewell and Adieu To You Fair Spanish Ladies
Produced by David Diaz and Sculpted by Bill Weiger
1/8 scale resin kit.



The Fog Horn
With a Tony McVey sculpted Sea Monster and a Lindberg Lighthouse in N scale.




Food of the God
a modified Roostercatzilla 2 in 1/285 scale.
The cooling tower is scratch built as well as the train cars and reactor building.
The explosion is resin with lights and the soot from the cooling tower is poly-fiber.
The other buildings and tracks are war gaming miniatuers.




Gamera 3
Kaiyodo Gamera sculpted by Yuji Sakai. Gyaos by Bandai. N scale custom diorama. Article for Amazing Figure Modeler #30.


Giant Terror Gorilla
Sculpted by Jeff Yagher and Mike Wallace. Produced by Hell 2 Breakfast models.

Godzilla in Hudson City
One of my favorite dioramas I've ever created using Needful Things' Delgadosaurus sculpted by Bob Bagy, and HO scale buildings and vehicles.
Took nearly a year to complete, and won Most Amazing Figure at the 2001 Wonderfest in Louisville, Ky.




Godzilla Tribute 1954
Sculpted by Matsumora and produced by Kaiyodo. Custom Diorama using Kato trasmission towers and war gaming military.




Godzilla 1982
This is an earlier diorama I did in the late 90's using Naglework's Stoutosaurus,
sculpted by Shawn Nagle and designed by Bill Stout for a proposed Godzilla movie in 1982.

Godzilla vs King Ghidorah
Base made from 1954 Bandai Plastic Kit and Balsa Foam.
byYuji Sakai


Gorgo
By Alternative Images, sculpted by Mark Van Tine with some extras added to the base.



Gorjiraganthous
By Cretaceous Creations. Sculpted by Shane Folkes.


"Have You Heard The News"
With the Screamin' Rise n Dine Zombie and the resin kit Lil Amy.


"Hell to the Chief!"
My personal tribute to the G W Bush administration. This kit was designed by myself, and superbly sculpted by Mark Vantine.
Released under the name Radioactive fire Monster. Custom diorama using a Lindberg White House and N scale details. Article for Amazing Figure Modeler #40.




I Married a "Thing" from Outer Space or Love in the Time of Space Monster"
Models: X-O Facto I Married a Monster from Outer Space by Mike Falcigno and Generic 1/6 scale plastic skeleton kit.
Scratch-built altar, priest clothing sculpted in Aves, Flamethrower is 1/6 GI Joe, Bloody Ooze is Crafter's Pick glue and glass balls, bible and flowers 1/6 scale Barbie.


King Kong
A cut up , reposed and resculpted Geometric Design model and a resin Empire State Building base.
Used for the cover of the King Kong special issue of Amazing Figure Modeler #34.

br>
King Kong In Hudson City
Sculpted by Tony McVey. HO scale diorama that won Most amazing figure at the 2002 Wonderfest in Louiville, KY.

Kong's Rampage
Completed this diorama in 2001, using Geometric Design's vinyl King Kong, converted pewter Zulu gaming warriors and a scratch built platform.
It won a Gold Award and Best Diorama at the 2002 Wonderfest in Louisville, KY.



King Kong vs T-rex Classic
Released by Resin from the Grave, and sculpted by Joe Laudati. Repositioned and re-sculpted to better view Kong's face.
Kong's face also re-sculpted. Custom base with Geometric Design's Fay Wray. Article for Amazing Figure Modeler #34.


King Kong vs T-Rex
by Shawn Nagel and Matt Manitt


King Kong vs V-Rex
A stripped and repainted Weta statue on a custom diorama base. Article for Amazing Figure Modeler #43.








"Lawyers for Lunch"
This piece was a long time aspiration of mine that I finally got to work on for an article in the Dinosaur issue of Amazing Figure Modeler #31


"Love,Mom"
Model: Menagerie
Sculptor: Tony Mc Vey
Scale 1/8
Diorama: Magic Sculpt, Woodland Scenics, Geometric Design, Ikea




Might has Right
Scene: Late Creatacious period, T Rex theives a dead Triceratops from a pack of Dromeosaurs.
Models: Tyrannosaurs Rex (1/35) sculpted by Roostercat. Converted Safari Triceratops (1/35). Tamaya Raptors (1/35).
Notes: Added feathers to the raptors and t rex using real feathers. Made soil to resemmble volcanic rock.
Plants made from sage brush, thyme, moss, and plastic ferns.







Mighty Joe Young in Darkest Africa
Sculpted by Joe Laudati and produced by Gillman Productions.
I used the optional closed fist instead in the one holding the kid and added some water effects



MONARCH
FMS 02 Legendary Godzilla , Sculpted by Tanaka Kenichi
Male Muto, Sculpted by Mike Wallace
Gemini 1/400 scale commercial airport----Explosions made from chicken wire, cotton balls and LED Lights----Exploding Jet: Hollow cast 1/400 scale 747 Gemini Jet






Morlock!
Produced by X-O facto and Sculpted by Mike Falcigno.


The Mummy
Produced by GeoMetric Design, sculpted by William Paquet

Pale War Horse
Kits used in this diorama is Scotty the T-Rex by Yuppie Chen , a few of Master Box Indian Wars and Old West kits,
Pegasus cactus, AK grass clumps, and a few other bits and pieces I found on ebay










The Phantom of the Opera
Produced by Horizon Models

Pumpkinhead
A modified version of Needful Things kit, put into a diorama.


Resident Ophiocordyceps
Featured in Amazing Figure Modeler #67.




Raising the Demon
sculpted by Mike Falcigno, produced by Falcignoart
Featured in Amazing Figure Modeler #50.




Raw Head Rex: Feast of a God
(Diorama in 1/6 scale)
Kits used: Monster Dork Studios Raw Head, Lil' Amy zombie kit (producer unknown), 1/6 scale female blank action figure.
Base: Scratch built from bass wood, balsa wood. Woodland Scenics Foam Putty, Balsa Foam, Play Scale doll house windows and base board.



The Relic, Silence of the Limbs
Sculpted by Bob Bagy and Produced by Monsters in Motion. Custom diorama base.
Featured in an article for Amazing Figure Modeler #36.

Roostercatzilla 2
See above "Food of the God"





See You Next Wednesday
American Werewolf in London" by Fade to Black Models, sculpted by Bill Weiger
1/6 Scale Diorama featured in Amazing Figure Modeler Magazine, issue #61
For more details pick up a copy :)



Son of Frankenstein
By GeoMetric Designs, sculpted by William Paquet

Spinosaurus
produced by Cretaceous Creations sculpted by Shane Folkes





The Summoning
Kit by : Hiroto
Sculpted by: Gabriel Marquez
Diorama Products: Woodland Scenics, Preiser, Model Scene




Tolchock!
A King Kong vs. Godzilla diorama using Roostercat-Zilla by Galilao and King Kong by Bill Weiger,
with Tomix and Greenmax N-scale buildings and other N-scale details. Both models reposed and re-sculpted to interact. A labor of love.



Torosaurus
by Cretaceous Creations, and sculpted by Shane Folkes.


War of the Kaiju
Kits used in building this project: Gow Row Godzilla vs Baragon, Daimos Gaira (Green Gargantua) & Sanda (Brown Gargantua)




Werewolf of London
Produced by Janus Models, sculpted by Mike Hill. an Article for Amazing Figure Modeler #27)

The Yeti
Sculpted by Allen Davis and produced by Action Hobbies. Custom diorama. Article for Amazing Figure Modeler #42.



Ymir Assault!
Sculpted by Tony McVey, with a Geometric Base.


"YOU DON'T WANT TO LAY NO BOOGIE-WOOGIE ON THE
KING OF ROCK AND ROLL"